itsmy.com just released what is probably the largest ever survey in the area of mobile social networks. More than 15,000 users took part from the US, UK, Spain, and Italy. Looking at consumer usage patterns, preferences, and statistics, this report really shows how deeply involved some consumers are with mobile social networks.
The worldwide survey was conducted on the mobile internet amongst 15,000 active itsmy.com users between September and November 2008. The age range was between 16 and 52 years. All had current mobile phone types and were from more than 30 different mobile operators.
Although you would expect this sort of sample would consist of people that are interested in mobile social networks, what I found interesting was that it shows how deep this involvement can be.
For example, here is a question about means of communicating with friends and family, and it's clear that the mobile is the overwhelming choice for communications.
And this isn't simply a question of people using mobile to access their PC based social network. In fact, across all 4 countries roughly 60% to 70% said that the PC and mobile "have completely different stuff on them."
Some of the results that I found most amazing were those which revealed how intense the interaction is for many people. For example, this chart shows how many community messages are sent per user per day.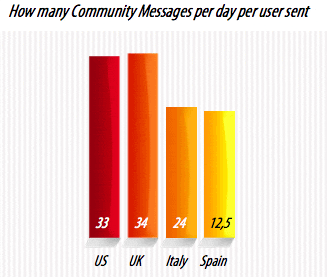 Als, the survey showed that the average user is surfing astonishing 160 mobile internet pages per day. And, over 10% of the respondents check for their personal messages before getting out of bed each day!
With 20 to 35 messages per user per day, average, this type of service is clearly a very integral part of life for many people. With this level of usage, with the large number of mobile page views this generates, and with the detailed consumer profile information which is often available, it is clear to see why the growth of mobile social networks may be very important for the overall growth of mobile advertising.