In the course of writing up our recent article on Mobile Applications: The Next Big Thing In Mobile Marketing?, we saw a lot of examples of mobile apps.
We thought it would be a good idea to share a number of these with you to give an idea of the wide range of marketing approaches that companies are taking.
So here is some information on a few mobile apps that we think you will find interesting.


These examples cover a range of industries. The brands and the applications in this article are:
• Virgin – The Virgin Festival Buddy
• BMW – The Race Game for BMW 1 Series
• Ogilvy – Chrimbell Christmas card
---
Virgin Festival Buddy
The Virgin Festival Buddy was designed specifically for music lovers who were attending the Virgin Music Festival. It aimed to serve as an interactive mobile guide while enhancing the consumer experience at the concert and highlighting Virgin's position at the forefront of the digital space.
Mobile agency TigerSpike decided that a mobile application was the best medium to use because the main group of concert goers are from 18 to 35 years old. The application was downloaded via WAP push and was compatible with 250 handsets in the Australian market.
The downloaded app was a branded icon on the user's phone, and allowed users to:
• Be kept aware of what was on at the V-Festival
• Plan their itinerary from the 4 stages
• Receive alerts when selected bands were due on stage
• Buy branded content from the artist performing
---
Race game for BMW 1 Series launch
This is actually one of the earliest examples of mobile applications used for marketing. Marc Mielau, Innovation Manager for Mobile Marketing at BMW told us about this when we interviewed him a couple of months ago. (Read the complete interview with Marc.)
Several years ago, BMW introduced the BMW 1 Series car. It was BMW's smallest and most affordable car to date, and it had strong competition from existing cars such as the VW Golf. So BMW felt it was important to establish a strong position for the car in the market.
Two of the main points about the BMW 1 Series were how it drove, and how it looked from the back. So to highlight these, BMW developed The Race Game. This was a downloadable game all about the BMW 1 Series which would let consumers see how the car looked, they could configure some of the tech specs, and then they could see a simulated driving experience.
BMW charged consumers €5 euros to download this adver-game, and still consumers downloaded a total of 75,000 copies!
Although the state of mobile technology has greatly progressed in the years since this game came out, it was done as a marketing innovation and it was very advanced for its time.
[kml_flashembed movie="http://uk.youtube.com/v/TZKxzstqbyM" width="350" height="280" wmode="transparent" /]
---
Ogilvy – Chrimbell Christmas card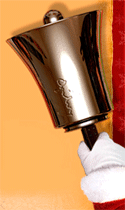 Here is an app that Scott Seaborn at Ogilvy UK told us about.
This year, for a Christmas card, Ogilvy decided to make an iPhone app. The app lets anyone play Christmas carols on bells – or at least it looks that way.
First you download the Chrimbell application from the iPhone App Store to your iPhone. Then you select which carol to play, and when you shake your iPhone like a bell, it plays the correct notes in sequence.
There is also an option where several people can play together, each having (virtually) just a single bell.
Here is a video of someone playing the song Auld Lang Syne using the Chrimbell app. (On the YouTube notes it says that the 'musician' is Bo from Ogilvy Interactive.)
[kml_flashembed movie="http://uk.youtube.com/v/A7fuMrRyLNE" width="350" height="280" wmode="transparent" /]
---
To read about additional examples of mobile apps, check out these MobiAD articles:
• PUMA F1 game
• Lynx Get In There Tools