Volkswagen USA has launched a new mobile website, optimized for smartphone consumers.
The new site gives customers all of the important information about VW, but tailored in a way that works best for mobile. The result is a mobile service that takes advantage of new mobile capabilities to let customers find what they need, when they need it.
Designed and implemented by interactive agency AKQA, the new site is very clean and – as with all good automobile advertising – provides lots of really nice images.
The site gives access to information about the full range of VW cars, and provides highlights and a photo gallery for each.
In addition, the site provides a series of "Shopping Tools". These allow the consumer to
schedule a test drive of a particular model, request a particular day, and receive a response by either phone or email,
request a quotation on a particular model,
see what special offers are currently available, keyed specifically to the consumers zip code.
And of course, the VW mobile site provides a series of special ringtones and wallpapers featuring popular imagery and sounds from recent Volkswagen advertising.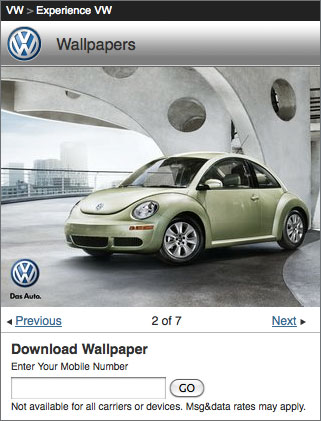 "When we designed our mobile site, we kept in mind that many of today's consumers are constantly on the go," explains Charlie Taylor, general manager of digital marketing and motorsports for Volkswagen. "We focused on location-based services such as the ability to find a dealer, schedule a test drive, and get a quote."
14.10.2009&nbsp &nbsp Tags:
automobile
,
campaign
,
mobile-site