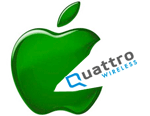 The mobile advertising market continued to heat up recently, with Apple's acquisition of Quattro Wireless, a mobile ad platform and network company.
This move follows only weeks after global internet search company Google acquired rival ad networkAdMob.
The price of the deal is reported to be $275 million, significantly less than the $750 million that Google paid for AdMob. Industry rumor holds that Apple was also interested in acquiring AdMob several months ago, but was out-bid by Google. (read MobiAD article: AdMob acquired by Google)
These acquisitions demonstrate the focus that both companies are putting on the mobile market. Especially now that smartphones, mobile internet, and mobile applications are expanding rapidly, both companies feel the need to build there presence as rapidly as possible.
For Apple, the Quattro acquisition should lead to an additional revenue stream from the extremely popular App Store. If they can develop the Quattro platform into the preferred service for serving ads into iPhone apps, this will have not help developers monetize their apps, but Apple will be able to share in this advertising revenue stream.
An interesting post script is that Google has made a very supportive public comment on the acquisition.
On their Public Policy Blog, Google pointed out that this acquisition was evidence that there is vigorous competition in the mobile ad market.
"Today's news that Apple is acquiring one of AdMob's competitors, Quattro Wireless, is further proof that the mobile advertising space continues to be competitive. And with more investments and acquisitions in the space, including from established players like Apple and Google, that's a sign that vigorous growth and competition will continue. That's ultimately great for users, advertisers and publishers alike. "
It has to be remembered that the FTC (US Federal Trade Commission) is looking into the Google-AdMob deal, so presumably Google is looking to build the case that their acquisition will not cause any anti-competition issues and should therefore be allowed to go through.
16.01.2010&nbsp &nbsp Tags:
ad_platform
,
apple
,
Google
,
M&A