A Day in Paris
Brand:
Van Cleef & Arpels
Application:
A Day in Paris
Platform:
iPhone
Agency/
Developer:
heaven


Campaign Objective:
This campaign aims at giving an innovative image of French jeweler Van Cleef & Arpels to its consumers.
Description:
This application introduces the "A Day in Paris" collection to iPhone users, while also offering poetic strolls through Paris for user to enjoy.
MobiAD Comments:
This application is a good example of giving something to the user that can make his life more pleasant. It also includes subtle branding of the new collection.
Screenshots: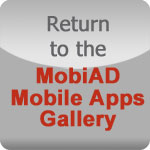 16.05.2010&nbsp &nbsp Tags:
fashion
,
mobile-application