Getting access to accurate campaign results information is usually very difficult – most brands prefer to guard this information as a competitive edge.
However, recently Crown Imports (importer of Corona beer), mobile ad network Greystripe and market research firm ComScore have joined together to announce the results of Corona's recent "Win a Beach Getaway" campaign which ran across Greystripe's mobile advertising network.
The numbers show the campaign was very effective at increasing in both brand awareness as well as purchase intent.


The Campaign
The campaign was designed by Greystripe along with Horizon Media, Corona's ad agency. It used Greystripe's Immersion ad format (somewhat similar to Apple's iAd Format) which is designed to allow advertisers to fully engage customers with sight, sound and motion.
In this campaign, consumers were presented with a full screen invitation to "get a glimpse of your beach getaway." Then, a blank Polaroid style photograph appeared, and they were asked to shake their phone in order to develop the picture. There were also further options to watch a video about the vacation, and of course to enter the contest.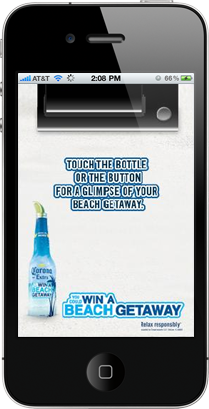 An invitation to glimpse your vacation by developing a photo
The picture develops and you have the chance to see more photos, watch a spot, or enter the contest.
Lots of Interaction
Although the campaign mechanic is relatively simple, consumers enjoyed the interactivity. The campaign was targeted 21 to 29 year old males and had the following results:
Users spent an average of 21 seconds interacting with the ad,
18% of those who interacted with the ad signed up for the contest.
Another important factor is that the ad is inserted seamlessly into the consumer experience. For example, in the video below the ad runs in-between levels of a mobile game. As you can see, the consumer finishes one level, interacts with the ad, and then goes straight back to their game with no interruption.
"Today's huge opportunity in mobile advertising is to provide a platform for brands to engage deeply with their target audience. It is not just about the click, but about a fantastic user experience with the ad itself" said Michael Chang, Greystripe CEO.
Strong Results
In addition to high level of consumer interactivity, the campaign also scored very well on more traditional marketing metrics:
a 13% increase in brand awareness in consumers who where exposed to the campaign, and
a 49% increase in purchase intent.
The brand manager of Corona/Corona Light at Crown Imports, Anup Shah said, "We were very impressed with the results of our campaign with Greystripe, from the increase in purchase intent and brand awareness to the level of interactivity and engagement."
This type of result is not limited to just this Corona campaign. In June Greystripe released a set of figures which compared the CTR of static ads compared with the more interative Immersion ads on the Greystripe network over the last year. They found that Immersion Ads performed 4 times better than static ads, with a CTR of 3.9% compared to 1.02%.
So the message from marketers looking at the mobile channel seems to be getting more and more clear – the tools are there to help you make interactive ads on mobile that will lead to great consumer engagement. The campaign doesn't need to be overly complex or complicated, but it can still have a strong impact on your marketing objectives.
"The impressive results from Greystripe's Corona mobile ad campaign reinforce our belief that mobile is an essential medium for advertising today" said Sarah Bachman, associate director for Horizon Media.