Tablet devices such as the iPad are rapidly gaining in popularity around the world, and many publishers are now targeting this platform.
Advertising revenue is always a key component of any publishing businesses, so many people would like to understand the effectiveness of advertising on tablets compared to other platforms such as e-readers or even standard paper publications.
A recent survey by market research company GfK looked at this question, and revealed that Tablets can be extremely effective for advertising.
The survey included 7,000 consumers and was conducted between May and July, and showed in a number of ways that tablets should be a very good advertising platform.
First of all, users of tablet devices take more notice of ads than users of e-readers: 55% of tablet users noticing ads compared to 41% with e-readers. What's more, the figure for tablets even compares favourably to that for "hard copy publications" which stands at 53%.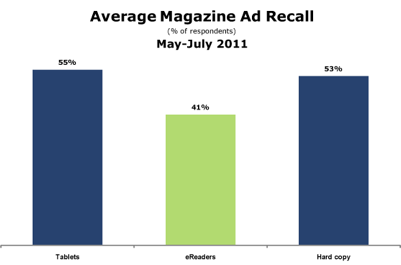 The second key finding is that ads on tablet devices have the ability to influence consumers. GfK found that users of tablet devices are also more likely (26%) to have a favourable opinion of the advertiser compared to 19 % with e-readers.
Finally, the most outstanding difference comes in the level of consumer engagement that tablets provide. For example, nearly 25% of tablet owners go online to search for more information having viewed an ad on their device, compared to less than 1% for e-readers. This is a huge difference.
Similarly, 9% click through to more ad content and 8% watch an embedded video, whereas the figures for e-readers are each less than 1% for these types of interaction.
"With 20% of mobile e-commerce transactions now taking place on tablets and US ownership [of tablet devices] expected to double to 58m users by next year 2012, advertisers are likely to focus their campaigns on devices like the iPad" said GfK SVP Michal Galin.