eBay Motors
Brand:
eBay
Application:
eBay Motors
Platform:
iOS


Campaign Objective:
The eBay motors app aims to bring eBay's Motors marketplace into your pocket allowing you to browse and shop for vehicles and vehicle parts while on the go.
Description:
The app includes all the classic features that one would associate with shopping on eBay but also ads some extra ones to make life easier for the motor vehicle enthusiast.
For example the app includes free vehicle history reports, an easy seller contact option in order to find out more about the vehicle and social media integration.
MobiAD Comments:
Our favorite feature is the Garage feature, which allows user to store information about their vehicle thus making it easy to search for parts and accessories that are made to fit your particular vehicle.
Screenshots: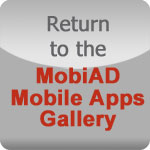 22.08.2011&nbsp &nbsp Tags:
automobile
,
ebay