Shortly after the launch of Facebook's mobile ads, a number of studies have come out which show that customers are reacting very well to the new channel.
While over time the figures will most likely drop as the novelty factor goes away, it is still a very impressive start.

The first study was based on nearly 280 million ad impressions by four of Facebook biggest Ads API partners: TBG Digital, AdParlor, Nanigans and Spruce Media. The study showed that mobile sponsored stories are getting over 13 times the CTR and earn over 11 times the eCPM on mobile compared to Facebook's desktop ads. In addition, the mobile ads have nearly twice the CTR and over 2.5 times the eCPM of Sponsored Stories on the web.
Hussein Fazal, CEO of AdParlor, said: "By allowing advertisers to show ads only on mobile, Facebook is definitely going to be able to generate more revenue. We have seen a tonne of interest from advertisers who want to advertise just on mobile." Play online games at the best friv 2 games this website.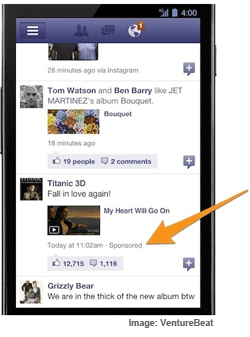 The second study by SocialCode, another one of Facebook Ads API partners, was based on a little more than 7 million ad impressions. This study found that the CTR for mobile ads was 0.79% compared to 0.327% for desktop only news feed ads. Further, the CTR was 0.148% average across the 5 placements studied (mobile, desktop news feed only, desktop only, news fee only (desktop and mobile) and the "control" group (uniform bids made across placements).
"the reason for the greater click rate was due to the ads' placements within the news feed, which are considered less disruptive" said Addie Conner, SocialCode's chief innovation officer "If you can make it an ad that users don't hate, it's actually extremely monetizable."
Facebook has also announced it is working on a location-based advertising model, that would allow companies to target potential customers based on their whereabouts.
Its vice president of global marketing solutions told Bloomberg: "Phones can be location-specific so you can start to imagine what the product evolution might look like over time, particularly for retailers. We've had offers being tested over the last couple of months."