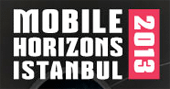 4 June, 2013
Istanbul, Turkey

An exclusive thought leadership forum that will give you a deeper insight into the future of mobile. A unique format, expert speakers, and an exclusive venue will guarantee a productive and enjoyable afternoon for all the attendees.
Mobile Horizons Istanbul is the first in a series of Thought Leadership Forums that will explore how mobile technologies are changing the world at a very rapid pace, and how businesses will need to rethink their strategies and service offerings to take advantage of these disruptive changes. This inaugural event will take place on June 4, 2013 in Istanbul.
The event will feature both international and Turkish visionary speakers who are active in the mobile and digital space.
The forum will provide a great chance to meet a selected group of 100 invited Turkish technology movers and shakers and digital marketing leaders. It is being sponsored by the leading mobile technology innovator Qualcomm. MEF, the premiere and the most established global mobile industry forum, is the industry partner for this exclusive event.
For more information, see the conference website.