Conference and Event Calendar
The MobiAD event calendar lists all of the events, shows, and conferences that are relevant to the emerging Mobile Advertising industry
MobiAD News is a media partner
with the following events:
---
14 to 17 October, 2013
New York, USA
This annual event will once again bring together key players in the mobile and financial sectors to focus on the latest developments and newest innovations in NFC and mobile financial services.
11. 05. 2013.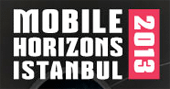 4 June, 2013
Istanbul, Turkey
An exclusive thought leadership forum that will give you a deeper insight into the future of mobile. A unique format, expert speakers, and an exclusive venue will guarantee a productive and enjoyable afternoon for all the attendees.
11. 05. 2013.
Other events of interest:
---
22 to 23 October, 2013
London, UK
Developer Conference & Exhibition: Now in its 4th year, Apps World has grown to be one of the leading global multi-platform events in the mobile industry.
11. 05. 2013.