Recently the Mobile Marketing Association (MMA) held their annual European conference in Berlin. Close to 200 people attended to learn about mobile marketing and to discuss future developments in the industry.
In this opinion article, Mike Wehrs, CEO of the MMA talks about the key results of the conference.

---
What was the key success of the MMF Berlin?
It provided a great forum for attendees to listen to how brands are really using mobile marketing now as a part of their overall marketing strategy. The event highlighted that brands are not simply dipping their toes into the water in terms of mobile marketing, but they are genuinely spending money and experiencing significant ROI from mobile campaigns. The Forum has been a great proof point for the adoption of mobile into the mainstream of brand communications.
What main lessons have brands learnt?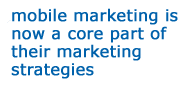 A key take away from the event is that for many of the world's top brands mobile marketing is now a core part of their marketing strategies and is here to stay. As testified by brands such as Auto Trader, the BBC, BMW, Coca-Cola, Deutsche Post, Lufthansa, Nestlé, Nike, Pepsi and Procter and Gamble, when mobile is integrated into the wider marketing mix and employed in a way that ensures measurement and tracking, it delivers enormously effective campaigns with real business value.
What key points did you take away with you after the event?
The message that resonated throughout the conference was that if a brand is not incorporating mobile into its overall strategy, they are already behind in their marketing efforts.
With brand attendance at 25%, the commitment to making mobile as successful channel as possible was clear.
In the current economic climate, the ability for marketers to demonstrate ROI played a key role in the presentations. Attendees were able to see specific campaign spends and performance metrics. When compared to the targets and results achieved through other marketing channels, many of the results were spectacular.

What's next for the MMA and its Mobile Marketing Forums?
The next Mobile Marketing Forum will be hosted in Los Angeles on November 17th and will host the Annual MMA Global Awards Ceremony and Dinner, uniting attendees from agencies, brands, operators and other members of the global mobile marketing industry.
20.09.2009&nbsp &nbsp Tags:
conference
,
MMA