Book your next yacht from anywhere
Brand:
Boatbookings.com
Application:
Boats
Platform:
iPhone


Campaign Objective:
Boatbookings.com has over 6000 yachts for charter worldwide, and wanted to make them available for customers to browse no matter where they were, even if not near a computer.
Description:
The main interface is an easy search screen that lets you choose the type of boat (motor, sail, catamaran), crew type (bareboat or crewed), and location of the boat you want, and then pull in the search results from over 6000 boats on the Boatbookings.com website. You can see complete yacht information, including images, specifications, descriptions, pricing and real time availability. From there you can make an enquiry directly on your iPhone.
The app also provides the best yacht charter deals available in real time. Boatbookings is frequently offering special prices, reductions, cheap one-way offers, and unique availabilities on hundreds of yachts, and they are presented immediately on the IPhone.
The CO2 calculator is a nifty tool that allows sailors to enter their hourly fuel consumption and cruising plans, and calculate the carbon footprint from their charter. Plus it tells how much it would cost to offset the emissions so that the charter can be carbon neutral!
MobiAD Comments:
This is the first tool of its kind for the Yacht Charter industry, and the first on the iPhone.
Screenshots: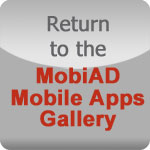 23.10.2009&nbsp &nbsp Tags:
mobile-application