Get the latest News from the Guardian on your iPhone
Brand:
Guardian News & Media
Application:
The Guardian
Platform:
iPhone
Agency/
Developer:
2ergo


Campaign Objective:
The Guardian's iPhone app aims to bring the latest news and content from the Guardian newspaper to readers' iPhones.
Description:
This application has followed the trend of news services releasing iPhone applications. It's key features include:
Offline browsing capability that allows readers to save articles so that they can read them later in places where they may not have a mobile connection
News search facility allowing readers to search through the latest news, galleries and audio from The Guardian
Picture galleries that cover everything from news and sports to fashion and wildlife
Customisable homepage allowing quick interest to the news and contributors of interest to the reader
[kml_flashembed movie="http://www.youtube.com/v/7UdtdPgO7Qg" width="350" height="288" wmode="transparent" /]
Results:
The Guardian iPhone app, which cost £2.39 to buy, has been downloaded over 100,000 times in just over 2 months.
MobiAD Comments:
This app had been built with ease of use at the core, which results in a very good user experience for the reader.
Screenshots: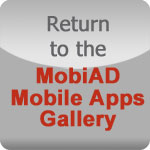 28.03.2010&nbsp &nbsp Tags:
mobile-application
,
news