eBay Fashion
Brand:
eBay
Application:
eBay Fashion
Platform:
iOS


Campaign Objective:
This eBay Fashion aims to help eBay fashion shoppers get the best out their shopping experience while on the go.
Description:
This app allows user to browse through the goods on sale on eBay while including added functionality such as the "Fashion Vault", where consumers can find exclusive limited time sales, "the Closet", where consumers can save all their favourite items.
Where this application is quite clever is that in "the Closet" users can create outfits by mixing and matching items using the outfit builder but can also "try them on" by using your phones camera.
Screenshots: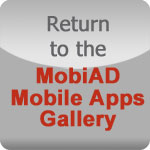 22.08.2011&nbsp &nbsp Tags:
consumer-goods
,
ebay
,
fashion