National Hockey League team the Pittsburgh Penguins have had great success in connecting with its student fan base using its text-messaging program. It all started in 2006 when in order to fill empty seats, they decided to text local students with offers of severely discounted tickets.

The students who were priced out of tickets at $100 were more than willing to show up to buy tickets at $20. The demand was so high it led to queues of students waiting around the block.
Students queuing for tickets
Jeremy Zimmer
, the team's director of new media, said the promotion helped fill otherwise empty seats and strengthened the Penguins' bond with students that they hoped would grow up to become season-ticket holders. "We want to engage them while they're young, and get them excited about the team early," he said. "This was a great way to do that."
This year, as the fortunes of the team improved, all games were sold out without the need to offer tickets at a dicounted price. This led to the advertisers looking for a new way to keep in touch with this young fan base.
Using mobile agency Vibes Media, the Penguins ran a series of successful contests and giveaways using SMS. For example, when they offered a puck signed by young star Sidney Crosby they received an astonishing 1,800 replies within one hour. Astonishing as the message was sent out to only 2,000 subscribers!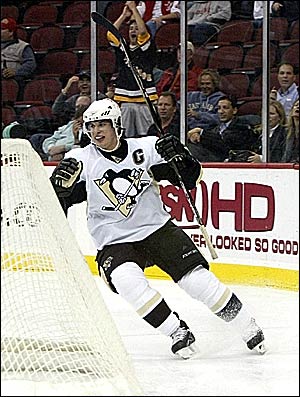 Sidney Crosby
On top of the activities aimed at students, the Penguins have developed a fan base of 20,000 subscribers who receive team news alerts, including game recaps and each game's three stars. This is up from 8,000 a year ago.
Although this has not yet been used as a source of revenue, some of the alerts are sponsored by Pizza Hut and one could imagine more of these being sponsored in the future. They may just have become the first NHL team to utilise the power of mobile.