Rhythm NewMedia, a pioneer in mobile video advertising, announced a new iPhone video ad unit, which for the first time provides in-video interactivity. The iPhone's unique touch characteristics allowed Rhythm to overlay TV style ads with touchable buttons that activate a call, SMS, a website, a map of local dealers, or another video. Lincoln and Pepsi have signed up as the first advertisers for this new ad unit.
The first iPhone application to run these new ads is vSNAX Videos which are free high quality videos from more than 25 premium media partners. Short pre and post rolls – 5 to 30 seconds – are inserted dynamically, with individual frequency control. Lincoln and Pepsi are the first advertisers to use this revolutionary new ad unit and their ads are currently running on vSNAX.
Pepsi used interactive video on an ad for their AMP energy drink. This picture a frame from the Pepsi ad and you can see the "i" button that consumers can touch to get additional information.
Lincoln used this new feature in a campaign for their all new Lincoln MKS luxury sedan. Lincoln aimed to reach affluent and tech focused consumers, similar to the iPhone demographic, because the Lincoln MKS has a host of advanced tech features. The Lincoln mobile video provides one-click access to their iPhone optimized website where interested consumers can get more information on the car.
This is a picture which shows what the Lincoln ad looks like on the iPhone.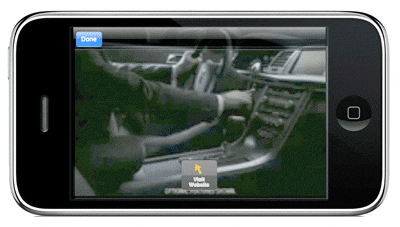 Here is a video (please excuse the low quality) that shows the Lincoln ad running on an iPhone. It shows a person selecting the G4TV channel, and then you see a 15 second pre-roll ad. The "i" information button and the "visit website" button are also visible.
Ujjal Kohli, chief executive officer of Rhythm NewMedia said "we're thrilled about having created the world's first touchable mobile video ads that elegantly balance a graceful consumer experience and the needs of advertisers. Further, we're excited to offer iPhone inventory to our advertisers as the iPhone user base represents the most affluent and influential demographic of mobile phone users."
Read the full Rhythm press release.
29.10.2008&nbsp &nbsp Tags:
iPhone
,
Mobile-Video