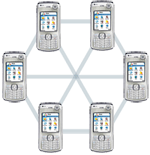 comScore, the digital measurement company, has reported that mobile social networks are a key factor in driving the growth of the mobile internet throughout Europe.
Social networking currently has about 12.1 million users in western Europe, with a year-on-year growth over 150%.


A surprising finding was that for 34% of the social network site visitors, these social networks were the only mobile internet content that they consumed!
Participation in mobile social network sites varies greatly across Europe, with the UK being the most active at 9%.



"A large portion of the growth in the mobile Internet audience can be attributed to social networking," observed Alistair Hill, analyst, comScore M:Metrics. "In the UK, for example, the audience of those accessing news and information, but not social networking services, with their mobile browser or an application grew by 149,000 unique users, whereas the number of those exclusively accessing social networking grew by six times that number in the past year."
A couple of other interesting facts about mobile social network users:
Women comprise 48 per cent of the group that uses social media exclusively, but they only make up 32 percent of those who access other types of mobile Internet content.
The median age for social media-only users is 28, versus 36 for other mobile Internet users.