Wimbledon
Brand:
The All England Lawn Tennis Club
Application:
Wimbledon
Platform:
iOS
Agency/
Developer:
IBM


Campaign Objective:
In order to keep fans updated, whether they were attending Wimbledon or not, The All England Lawn Tennis Club released an iPhone app for this years Wimbledon tennis championships.
Description:
The Wimbledon app is the place for tennis fans to turn to in order to stay up to date with developments at this years Championships.
The app includes spectator guides, live scores, news, the championship draw, daily schedules of play Radio Wimbledon (with 3 channels of live coverage) and video highlights.
MobiAD Comments:
While apps around events such as this have become very common, this app has an added Social Media touch with integration to the players' twitter feeds. This allows fans to receive updates from their favorite players as they progress through the tournament.
Screenshots: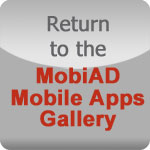 13.07.2011&nbsp &nbsp Tags:
mobile-application
,
sports